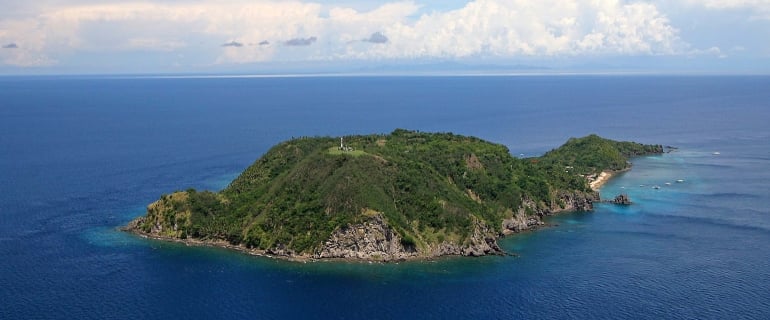 Although Dauin is mainly visited by 'muck divers,' there is a great opportunity for reef diving only 20 minutes away at Apo Island.
It is a stark contrast to the diving along the Dauin coast nearby Atmosphere Resorts & Spa, but you cannot compare the two because of how different they are. Although some critters are found at both places, such as sea kraits and sea turtles, Apo Island also offers amazing hard and soft corals, schools of jacks, bumphead parrotfish, and numerous schools of fish. There are opportunities for shallow coral diving, wall diving, and drift diving.
This island, volcanic in origin and only 78 hectares, is home to one of the best examples of a successful community-based marine sanctuary. The inhabitants of Apo Island, only 918 as of the 2010 census, used to prefer destructive fishing methods, such as dynamite fishing, cyanide fishing, and the Japanese form of Muro-ami, which involves pounding rocks on coral to chase fish into nets.
In 1982, a biologist from the nearby Silliman University in Dumaguete visited Apo Island to talk to the inhabitants about their declining fish stocks. He took them to Sumilon Island, a marine sanctuary set up in 1974 about 45 minutes away from Dauin, to show them the results of a successful marine sanctuary. After a few years, some of the families, as well as the bantay dagat (marine police), agreed to select an area that is 450 meters wide and stretching out 500 meters from shore as their marine sanctuary. Fish numbers and sizes increased and caused a spillover effect, resulting in more fish in the surrounding areas where fishing is allowed. By 1985, all of the families on the island agreed with and supported the sanctuary and made it legally binding through the local government.
Today, Apo Island has rebounded and has a thriving coral reef. It is home to over 650 fish species and 400 different coral species. The Philippines as a whole has around 450 species of coral, so Apo Island has an amazing diversity, from small bubble corals to huge table corals and everything in between. It is definitely a "must-visit" dive site when in Dauin, especially for turtle lovers. It is such a great example of a successful sanctuary that Shedd Aquarium, which is in Chicago in the United States, has a large exhibit dedicated to Apo Island.
After the typhoons a few years ago, one side of the island sustained major damage where many of the popular dive sites are, such as Mamsa Point and the Sanctuary. In another show of working together, the dive shops in the area agreed not to dive that side of the island to allow it to regenerate and recover. Hopefully with patience over time, the side will rebound and will be a healthy coral reef once again. As it stands now, the other half is still beautiful and received little to no damage.
There are turtle sightings every day, wonderful nudibranchs, sea kraits, and even a reported sighting of a thresher shark breaching near Rock Point West in March. As long as the divers visiting Apo Island have the same mentality as the community that started the marine sanctuary, the reef should be in safe hands, especially with Silliman University still doing coral research.
Let's all remember to do our part, practice good buoyancy, and follow Project Aware's 10 tips for divers to protect the ocean.
Your marine biologist /Daniel
Photos by Daniel Geary and David Hettich