Did you see the movies by blogger Christian LeBlanc and Droneheroes.tv? Most people did and marveled at the spectacular Maldives-like footage of the sandbar nearby Atmosphere Resort.
This insanely beautiful sandbar located less than 2 hours north of the resort has quickly become one of my favourite places to get away to. A peaceful paradise that seems a million miles away from everywhere, it's like a dream world you can share with just your favourite people – you can hire a boat for your family and friends and you might be lucky to not see another soul all day! That is, unless you decide to head out early and ask the boat crew to cruise out into the Tanon Strait to find the dolphins.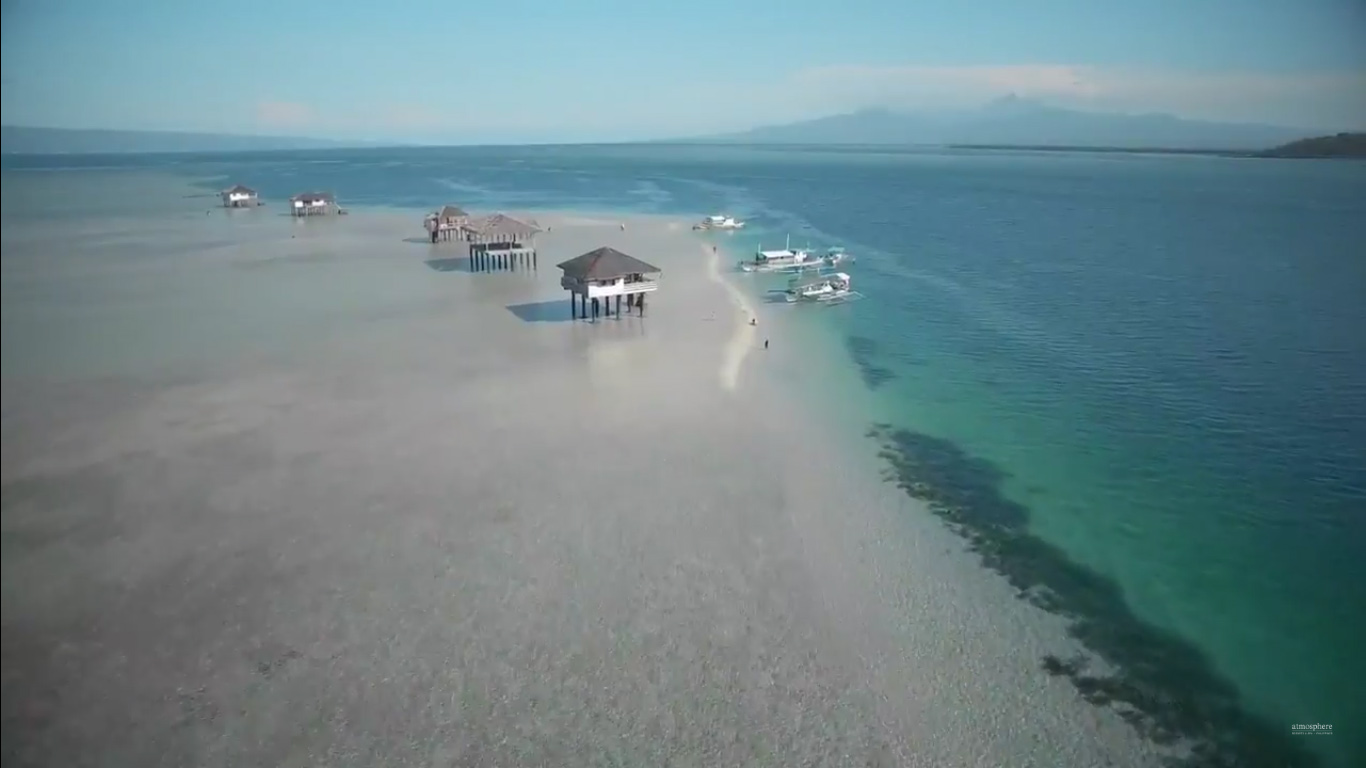 Bais, a city north of Dumaguete, is situated on a part of Negros where the coastline curves back on itself creating a bay. In the middle of the bay sits the gorgeous and pristine Manjuyod Sandbar. The sandbar is only a 15-20 minute boat trip from Bais pier, there are cottages on stilts you can rent for the day/night or just chill on the boat and sand with a picnic lunch and take advantage of the beautiful panoramic views of mountainous Negros and neighbouring Cebu Island.
The Tañon Strait is the longest and deepest Strait in the Philippines which is unsurprisingly, also the natural habitat of several whale and dolphin species. You may encounter the Pan Tropical Spotted Dolphins, Bottlenose Dolphins and Long Snouted Spinner Dolphins, Melon Headed Whales, Short finned Pilot Whales, Pygmy Sperm Whales, Pygmy Killer Whales, Dwarf Sperm Whales and even a Blue Whale has been spotted a few times. You can pair these two trips to make one epic day that you would surely remember forever.
Watch the footage here:
"The Maldives of the Philippines" by Lost LeBlanc
"Dumaguete – Negros Island by drone!" by Droneheroes.tv
/Becky Stanbridge