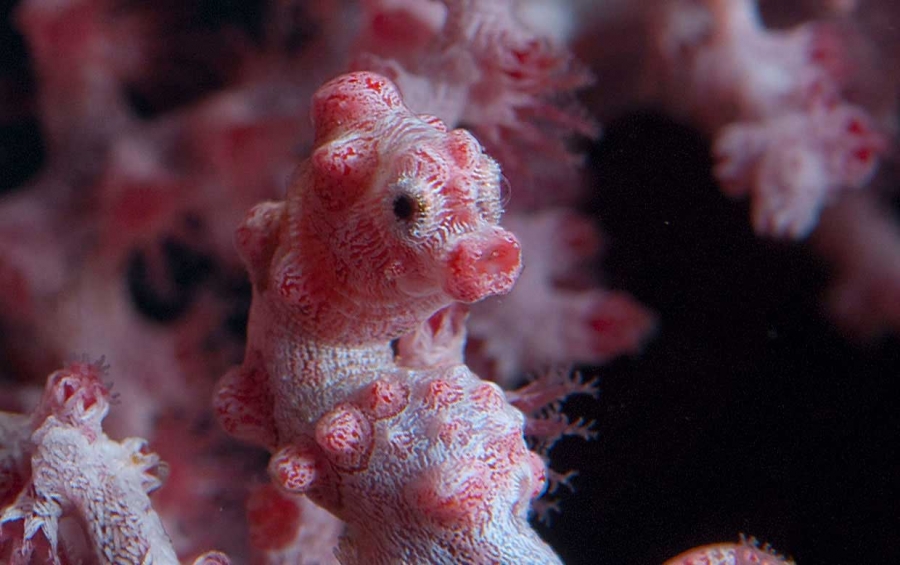 Imagine our surprise when we heard the rumors that a rare pygmy seahorse had found itself a home on the Atmosphere Resort house reef. Below 30 meters (great for Nitrox divers!) on a pink sea fan, the hunt began!
Our master critter spotters in the dive team soon found our new little friend, and he or she was indeed very small! But considering it was the first pygmy seahorse as far as we know that has been spotted in our area, we were besides ourselves with excitement. Ulrika got her camera charged up and went to take some photos – and had it not been for the straw of grass that Divemaster Arjay used for pointing at it, she could never have taken these photos.
Now, almost a month later, the pygmy seahorse is still holding the fort on its little pink sea fan and it appears that it has a possibly pregnant friend. We are looking forward to a whole family of pygmy's and we will keep you posted on how it goes.
Our pygmy is a Hippocampus bargibanti, and they live exclusively on fan corals. They are usually found in pairs and as with all seahorses, the male carries the eggs.