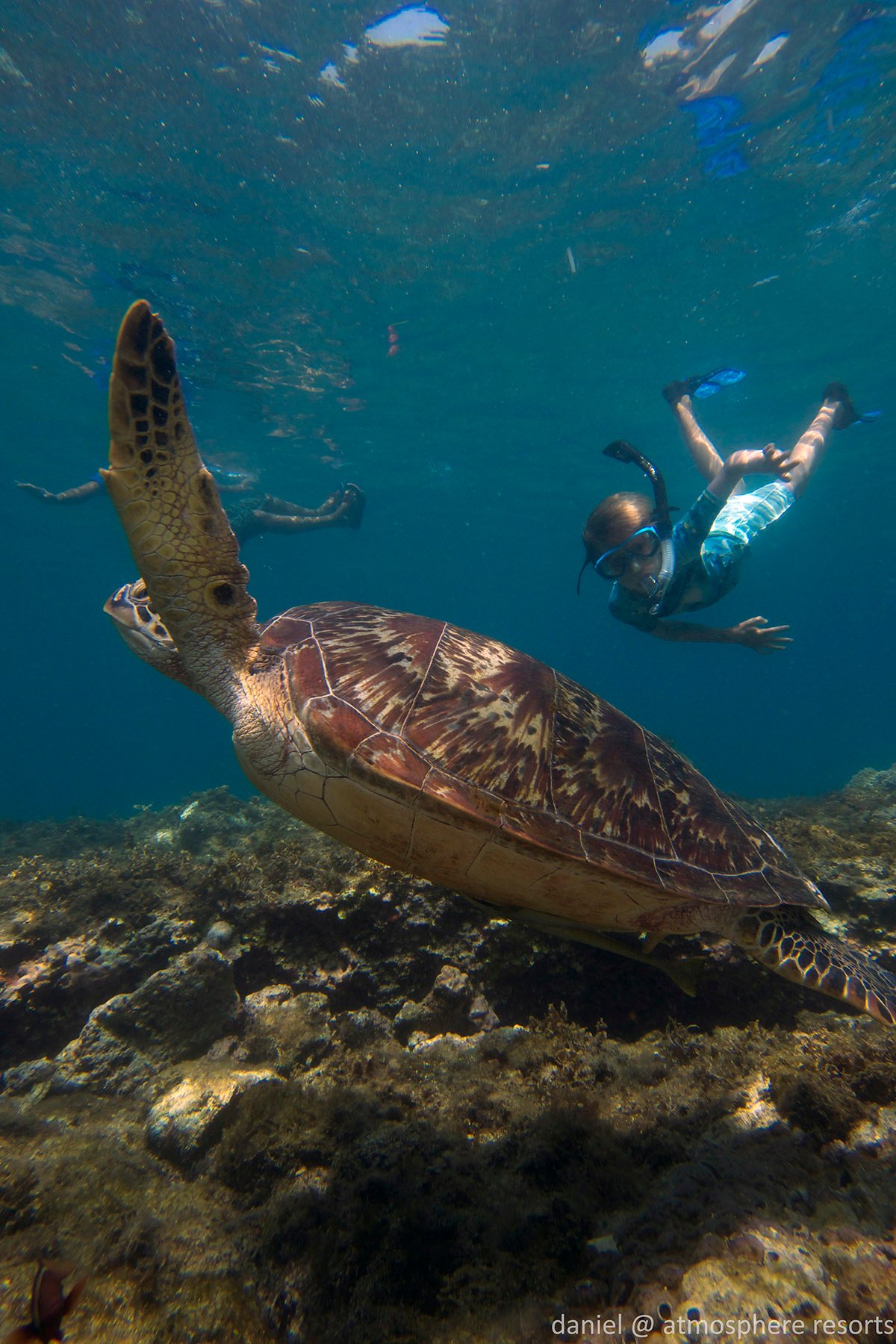 Although Dauin is known around the world for its amazing muck diving, tourism here started for a completely different reason – reef diving and sea turtles. Situated about a 30 minute boat ride from Atmosphere, Apo Island was the original destination for tourists visiting Dauin and Dumaguete in Negros Oriental. It was only after this tourism started that the muck diving here was discovered. In 1985, Apo Island was declared a marine sanctuary and destructive fishing methods, such as dynamite, cyanide, and muro-ami (smashing rocks into coral to chase fish into nets), are now banned. The sanctuary was founded by the community living on the island. They made the decision themselves to create a sanctuary, with the aid of a Filipino professor from Silliman University just down the road in Dumaguete, instead of having it forced upon them by politicians or legislation.
Apo Island is one of the best and most successful examples of a community based sanctuary. It is so famous that the Shedd Aquarium in Chicago patterned its main exhibit after the island. Apo Island is very famous for its numerous sea turtles – keep reading to find out why they are so abundant in Apo Island…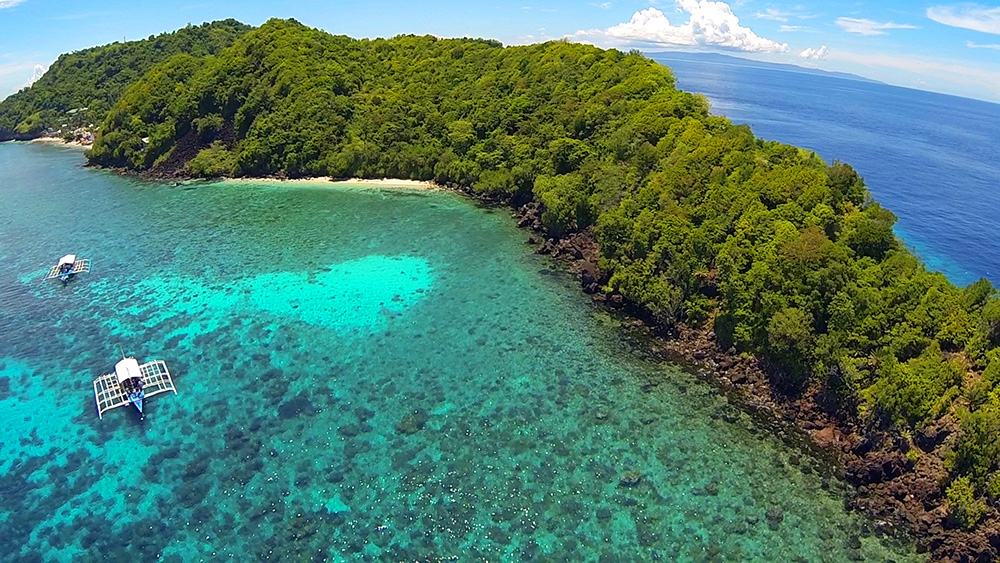 Photo by David Hettich
Apo Island has been protected for 30+ years and this is immediately visible when you enter the water. The soft coral gardens at five meters are completely untouched, even with daily diving pressure. There is very little coral bleaching and no signs of destructive fishing anywhere, as is the case in some other dive destinations in the Philippines like Malapascua where you can still hear (and feel) dynamite while diving. The soft coral transitions to hard coral as you make your way over the wall or down the slope, depending on the dive site. Although not as vibrant as the soft corals, the hard corals are incredibly healthy and abundant.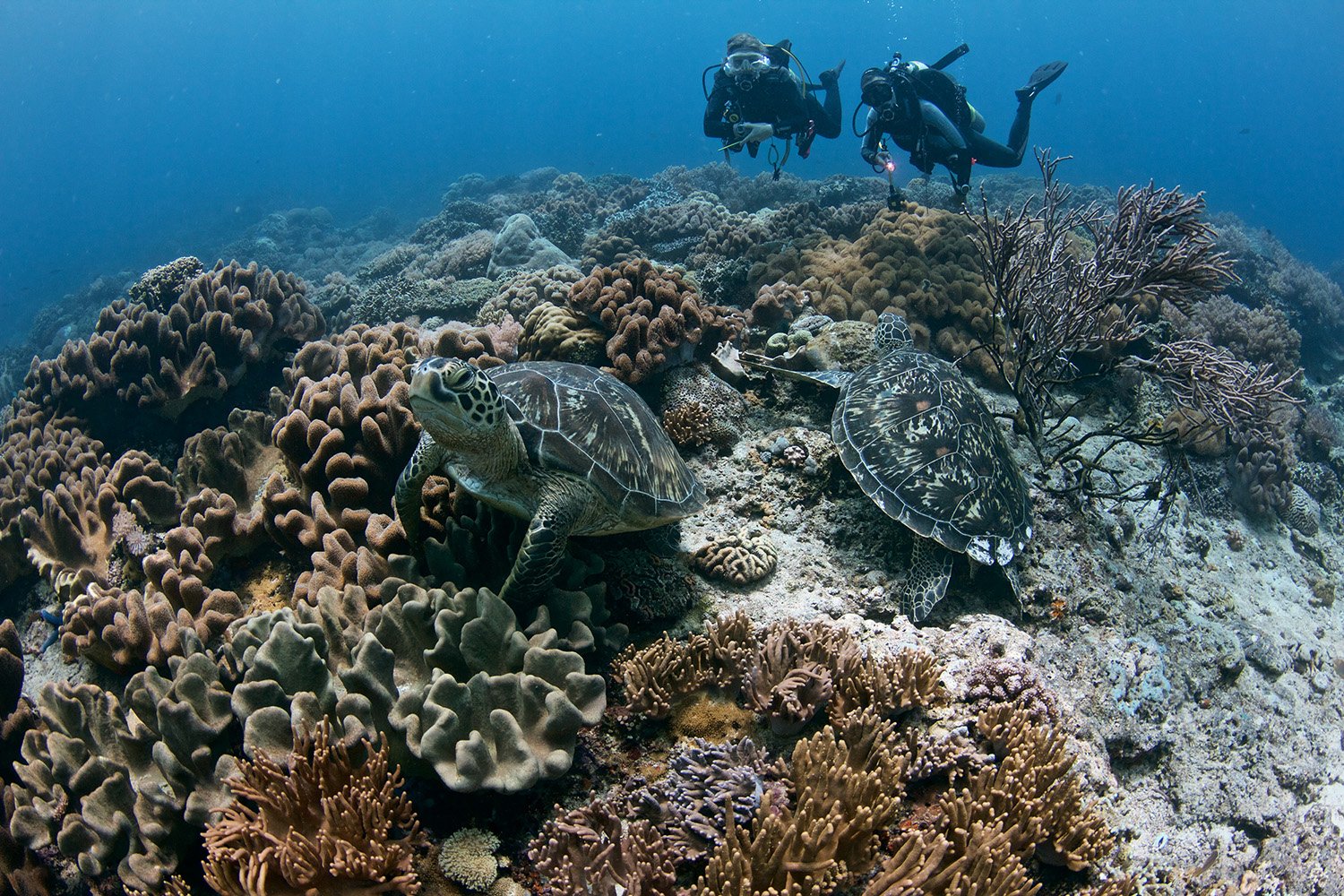 Photo by Bo Mancao
The reef fish are also abundant at Apo Island. A great thing for photographers is that many of the fish at Apo Island are not found on the Dauin coast due to the extreme differences in habitat. One of my favorite fish, the gilded triggerfish, is everywhere at Apo Island but is nonexistent on the coast. There are plenty of other reef fish to be seen, such as longnose butterflyfish, anthias, many species of clownfish, trumpetfish, as well as parrotfish.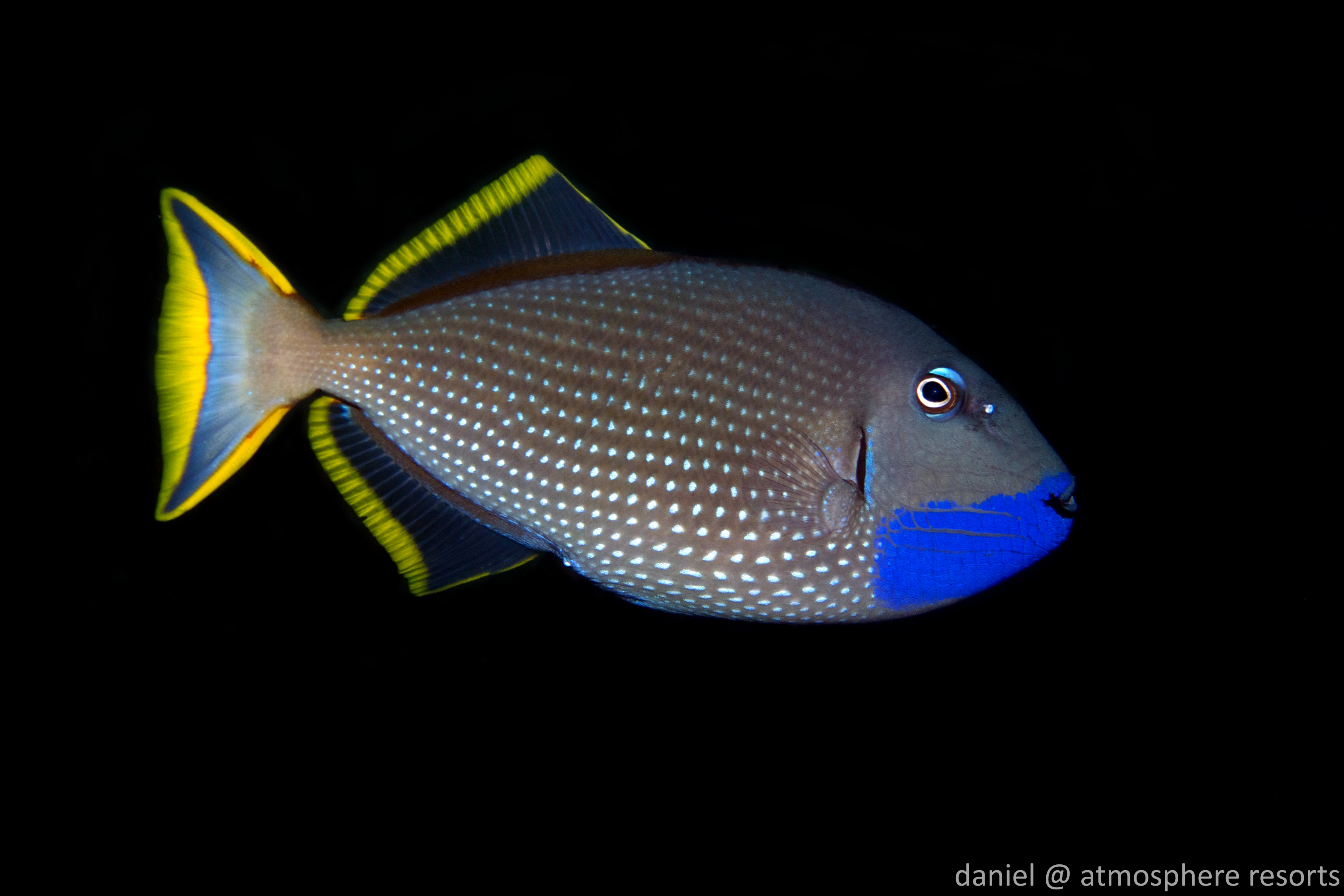 There are good macro opportunities at Apo Island, with many candy crabs and orangutan crabs to be found. There are plenty of nudibranches and beautiful flatworms, the occasional frogfish, and I have even seen a blue-ringed octopus while teaching an advanced course! You can see squid and day octopus as well. As for the bigger stuff, there are plenty of sea kraits around as well as jackfish, barracuda, tuna, wahoo, and the occasional shark. We saw a whale shark a few months ago and we see a thresher shark every few months. I was lucky enough to see one breaching at Rock Point West, launching itself a few meters into the air multiple times. I have seen false killer whales during surface intervals after hearing them sing throughout the previous dive and there was even a manta ray sighting in July this year by one of our friends.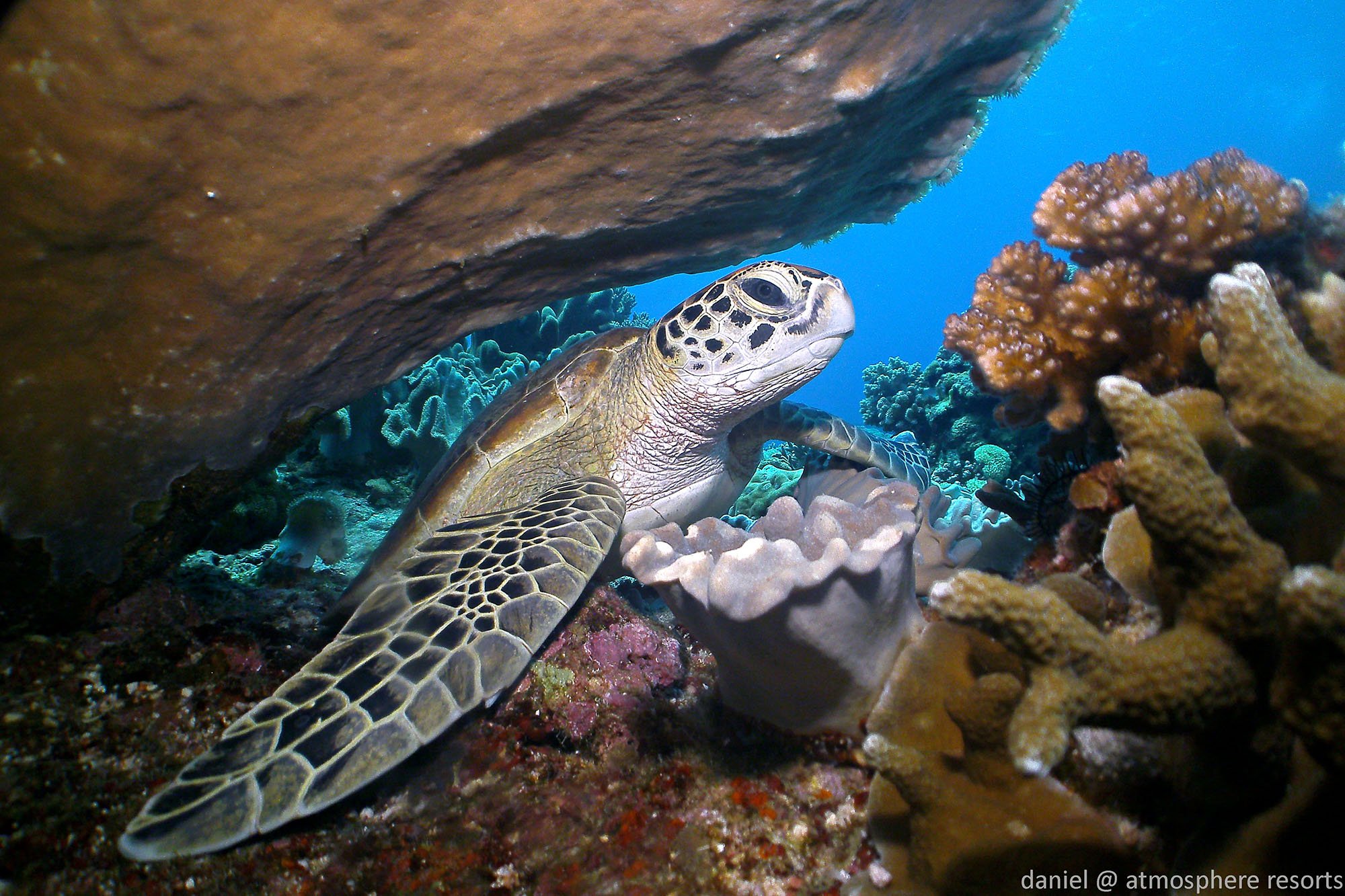 I have saved the most popular animal for last – the sea turtles. Turtles are the main reason our guests go to Apo Island. There are two species that can be found there – green turtles and hawksbill turtles.
Green turtles, although normally brown, are named after the color of the fat beneath their shell which turns the soup green as well. They are even called 'Soup Turtle' in Dutch! Green turtles are normally found in shallow water (0-15m), either grazing on algae in extremely shallow water or taking naps in the soft coral. They can also be found cleaning their shells on exposed rock or letting butterflyfish do the job for them. Their main diet includes sea grass, algae, sponges, and the occasional jellyfish, and algae is something that Apo Island has plenty of in the shallow water. Green turtles can be identified by their bullet-shaped head.
Hawksbill sea turtles can be found in shallow water but are normally deeper as their diet is mainly hard coral with the occasional anemone. Few things are funnier than a clownfish family attacking a sea turtle to the point that it speeds off in frustration (or fear). They can be identified by their pointy beak, which is used to cut off chunks of hard coral, as well as a shell that looks like it was puzzle put together with the wrong pieces – overlapping and bent/curled tips.
Apo Island is not a nesting ground, but it is a feeding ground for female sea turtles. The lack of poachers, 30 years of sanctuary protection and plenty of food ensures that turtles keep coming to Apo Island to feed. Occasionally we see a male turtle, but almost all of them are female. How to tell the difference? Male turtles have long tails like a lizard while female turtles have a very small tail.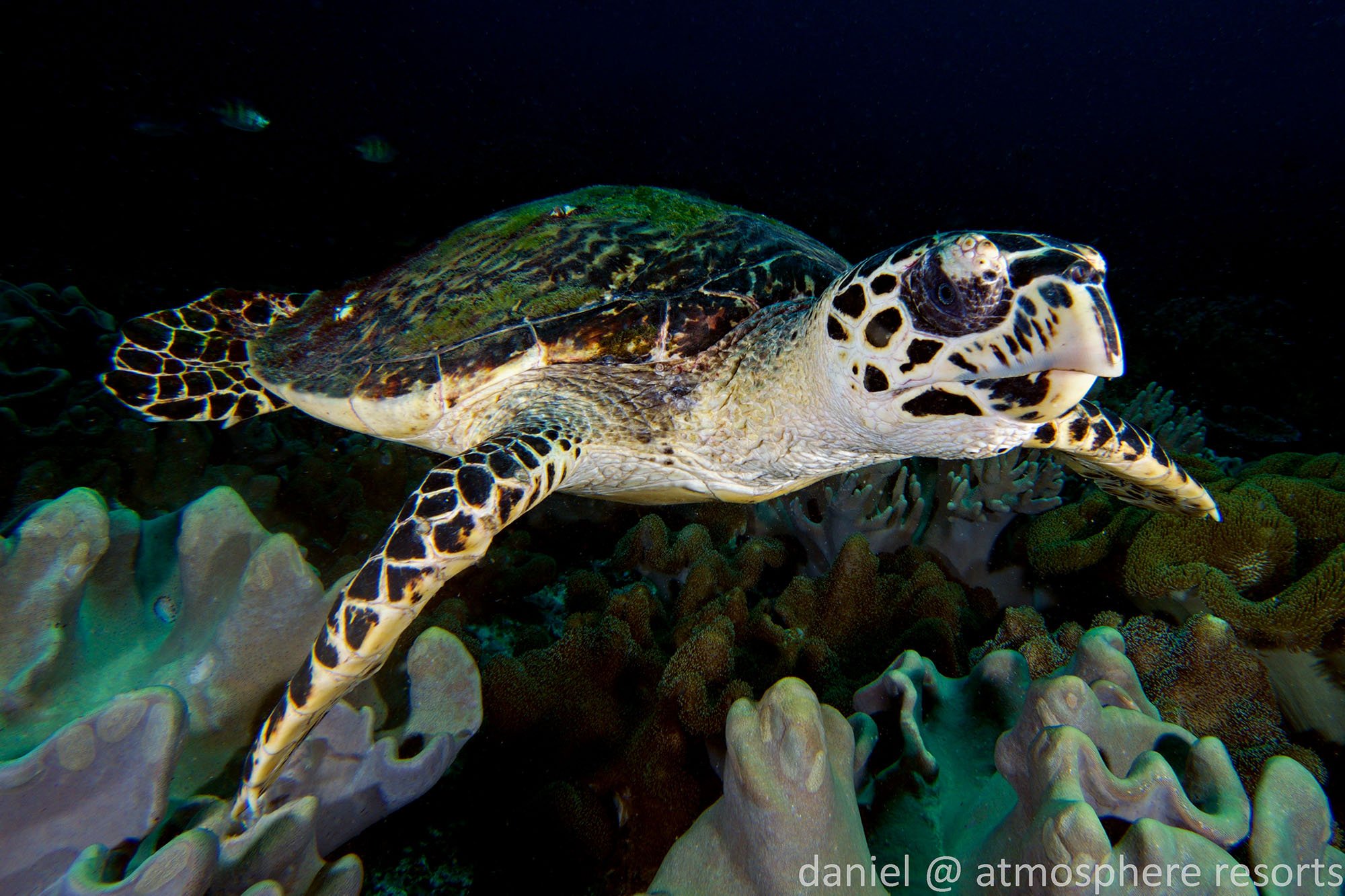 One of the best aspects of Apo Island is that it can be enjoyed by snorkelers and divers alike. Many times our snorkelers see more turtles than our divers due to the large amount of algae covering the rocks in depths of water less than 2 meters and it is always possible to go for a snorkel between dives as long as you are not freediving. Most of the turtles are used to human presence, considering there are no natural predators or poachers in the area, and I have seen the same individual for months at a time, usually in the same area. If you want to see beautiful coral and have an awesome turtle experience then Apo Island should definitely be on your itinerary. We offer trips almost everyday and the snorkel tours are perfect for children since we have life jackets and life rings available as well as a guide to tow them along if they do not feel like swimming! The next time you find yourself at Atmosphere, sign up for a day trip to Apo Island. You won't regret it.
Daniel Geary / your marine biologist