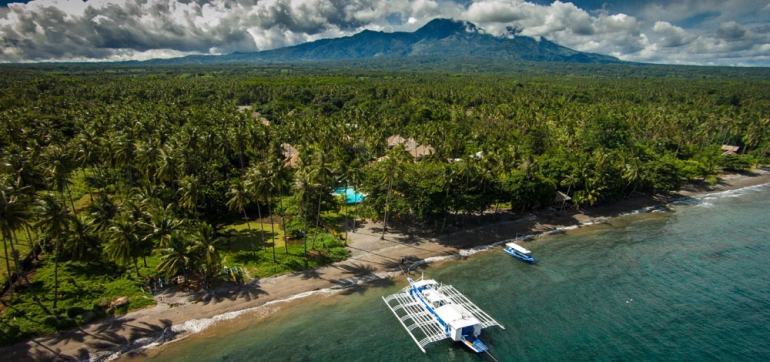 We live on a brown beach. When you ask people what their favorite color is, they rarely say "brown". Yet, many wonderful things that we love so much are brown in color; chocolate, coffee and in my case Marmite J.Whilst Marmite is a matter of opinion, we often equate coffee and chocolate to luxury and indulgence. What could be better than a fine creamy Italian coffee or a rich smooth chocolate dessert? (Did I mention that both of which can be found on our Atmosphere menus!?)
So then why do most people associate a luxury beach with white sand when in fact there is an array of beautiful beaches that span the earth's coastlines that are rich in a variety of colors?
There are green beaches in Hawaii, orange beaches in Malta, black beaches in Indonesia and yes you guessed it, there are brown ones here in Dauin. Negros Oriental. The island that Dauin is situated on is volcanic in nature. Mount Talinis makes for a spectacular skyline but has been dormant for decades – the only sign that the island is volcanic, is the multiple hot springs that litter the area, our local geothermal power plant and our brown volcanic sand beaches.
In fact we tend not to use the word brown when describing the color, we like to tell visitors and guests that our beach is made up of Chocolate silver colored sand, sand where the crystals sparkle like diamonds in the sun light. Compact enough to leave a footprint when wet, fine enough to slip through your toes when dry.
We have grown to love our beach at Atmosphere Resort and appreciate that just as beauty lies within each and every one of us; our beach is a beautiful a place where one can enjoy a luxury holiday full of indulgence.
Did we mention that our weird and wonderful underwater critters thrive in the volcanic sand? Come see for yourself…
/Rae