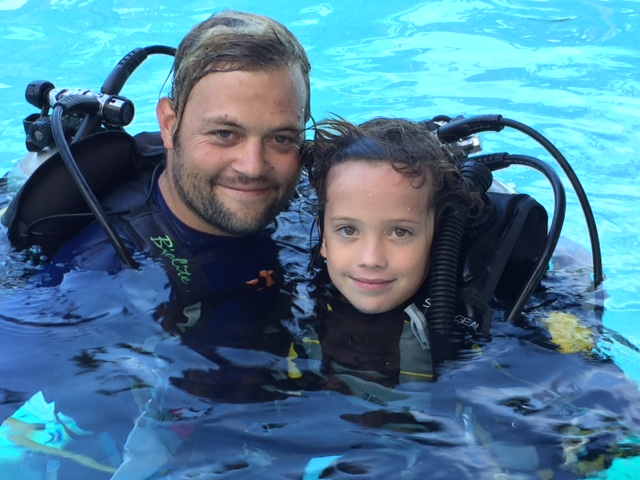 PADI Bubblemaker and Seal Team
When you visit us here at Atmosphere Resorts, you don't have to be an adult to enjoy all of what we have to offer. Whether it's diving (including the PADI Bubblemaker Course and PADI Seal Team), drinking, the spa, or excursions, there are always kid-friendly options. We pride ourselves in our happy hour (and a half) with drink specials changing daily that include non-alcoholic beverages for those who don't drink alcohol or are too young. When it comes to the spa and yoga, kids deserve to get pampered too. We have put together a kids' menu so that they can enjoy a relaxing time at the spa as well as mom and dad.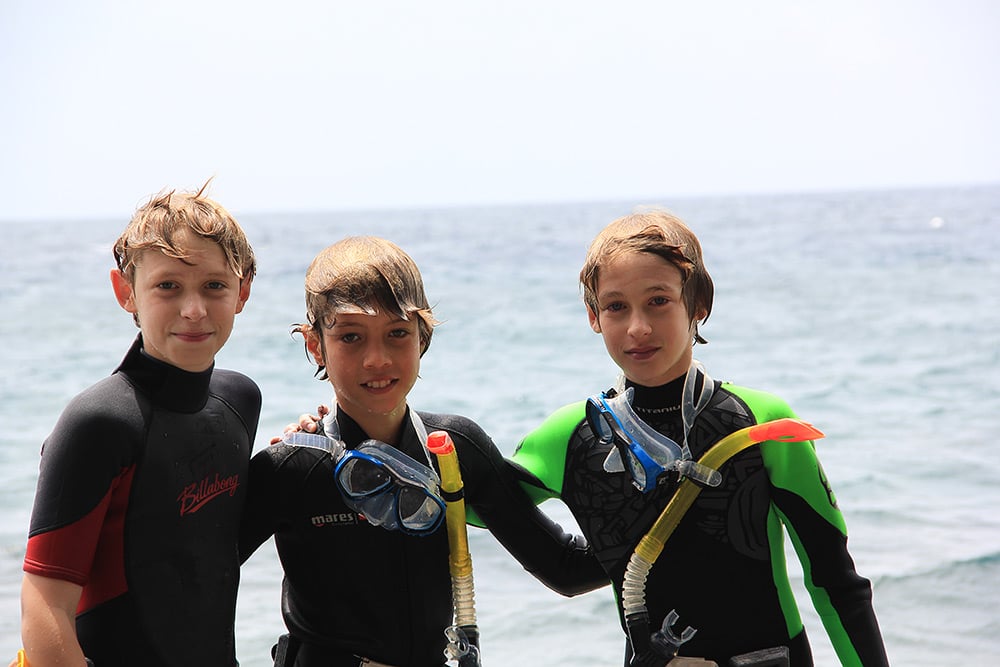 Diving for children of all ages
As for the diving, we have a few options for our younger guests. For kids 8+, we offer the PADI Bubblemaker course. It's a small introduction to diving but there are still great possibilities to see turtles, coral, and fish, even at a depth of 2 meters/6 feet. We also offer the PADI Seal Team for kids 8+. Dive students complete five AquaMissions to become a Seal Team member and then complete an additional five specialty missions to become a Master Seal Team member. After the fourth AquaMission, the students can go to a depth of 4 meters and even do a night dive as one of their missions!
We offer the PADI Skin Diver Course for anyone 8 years or older which teaches proper snorkeling techniques which can come in handy for a day trip to Apo Island for non-divers. For kids 10 years and older, we offer the PADI Discover Scuba Diving program which is an introduction to diving with a maximum depth of 12 meters, as well as the full PADI Junior Open Water Course.
Marinelife classes and workshops for kids
There are also a few opportunities with me, Daniel, for kids who are interested in learning more about the ocean. There are informative and fun Marine Life Presentations in the dive center once or twice a week that go into a bit of detail about the underwater life around Dauin. Adults are also welcome, as these presentations are for all resort-guests but it is very kid friendly with lots of cool pictures being shown.
We also offer a Kids Marine Life Club on request for kids 6-10 where I teach them about whale sharks, sea turtles, or interesting facts about the characters in Finding Nemo and how they relate to real life. We can also couple this with a one-on-one snorkel tour at Apo or a PADI Bubblemaker/Seal Team to go see the creatures that we talk about.
As of 2015, we also have our amazing new kids' pools. With three separate pools ranging in depths from 20 cm, kids of all ages can come and enjoy the fun. There are fountains, a waterfall, and a collection of pool toys as well. Situated next door to the pool is our new bakery where we display many of our wonderful desserts and sweets…
If you are planning on visiting us here at Atmosphere and wondering about bringing kids, don't hesitate. We have a very accommodating staff, babysitters available for hire, and a great family atmosphere. If you don't believe us, then check out this awesome review over at Globetotting.