Octopus October is officially in full swing.
Every year we look forward to October because Cephalopods seem to infest the coast. This year they definitely got the message and have returned in full force! Although we found a Blue-ringed Octopus, Wonderpus, and five Flamboyant Cuttlefish on a dive in September, that was just a preview.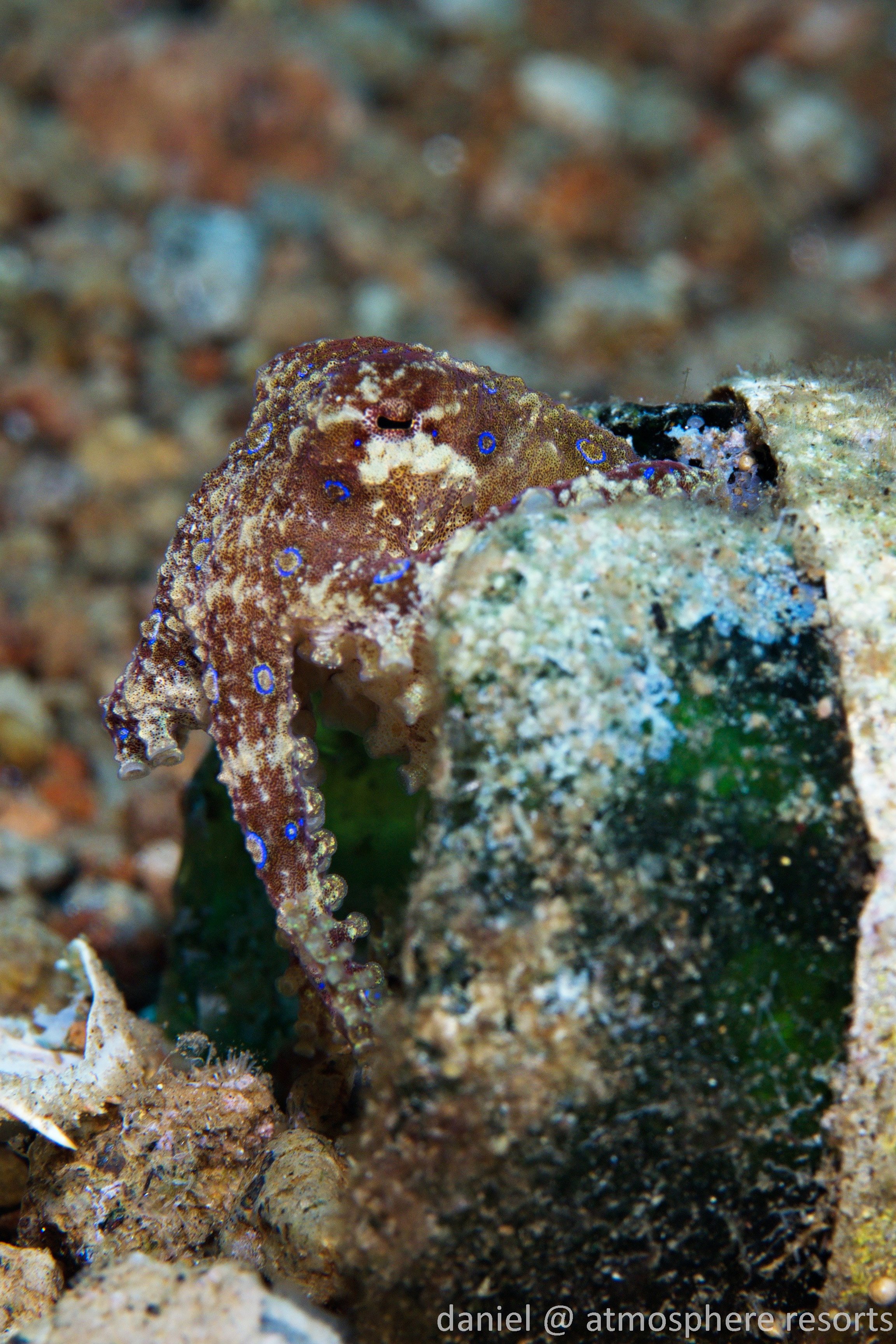 Octopus October started on the first day of the month, with dive center manager Marco finding a Blue-Ringed octopus on the house reef which stayed around for a few days. Our current favorite dive site, Secret Corner, has exploded into life. We have encountered a few Coconut Octopus, although they seem to be less in number this season. Wonderpus are sighted quite regularly, but like the coconuts, there are also less sightings than last year. Sightings have increased for one of my favorite octopus, the Mototi (Poison Ocellate) Octopus. We have found at least four different Mototis, including one that has made a home in a plastic water bottle while another lives in a shell. We have seen the octopus in the bottle for a few weeks now. These octopus are quite rare but we are seeing at least one almost every single dive.
Blue-Ringed Octopus, a definite favorite of divers everywhere, are being sighted quite regularly. We recently found a juvenile inside the broken neck of a champagne bottle, only a few centimeters tall. There are a good number of juvenile Broadclub Cuttlefish as well as a few adults and a handful of Needle Cuttlefish. The cuttlefish all-star, the Flamboyant Cuttlefish, seems to be everywhere we look! We usually find between three and six per dive at the corner, sometimes three at a time when two males are fighting over a female. Not to be forgotten, the large Day Octopus has made a home at a few of the reef dive sites along the coast, including the house reef.
Although its Cephalopod season, we still have the other usual suspects, like frogfish, ghost pipefish, seahorses, harlequin and tiger shrimp, hairy shrimp, and a bunch of other critters. There are  a few days left in October, but hopefully the Cephalopod action continues into November.
Daniel Geary /Your marine biologist