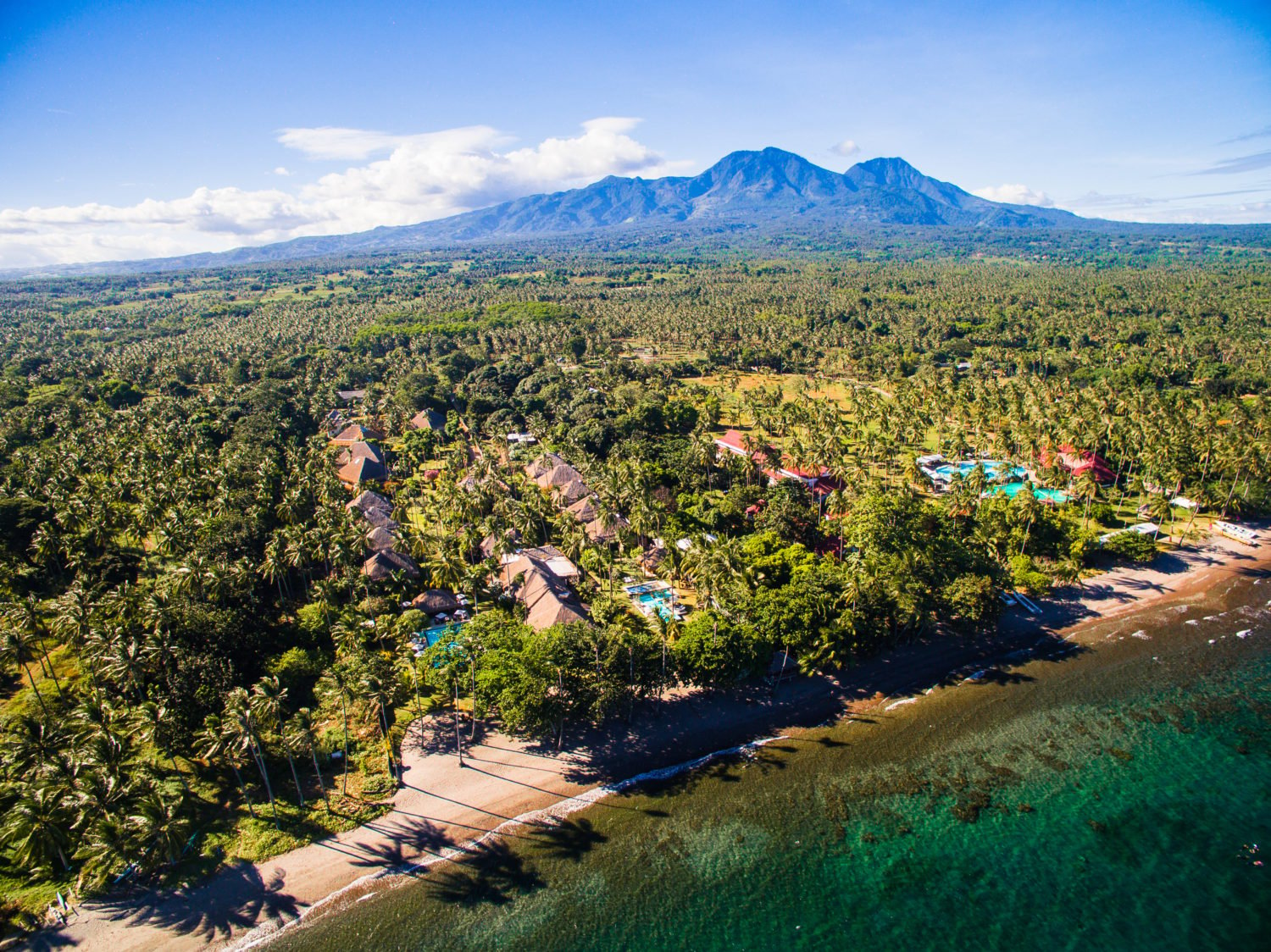 Mount Talinis, nicknamed locally "Cuernos de Negros" (Horns of Negros) is the picturesque, double peaked volcano you see rising up behind Atmosphere Resorts.  Our mountain, blanketed with thick, thriving jungle is located in Valencia, west of Dumaguete City.  The giant tropical plants and trees are well-fed from the humid down pours that engulf the peaks almost daily.
Although considered dormant, Mount Talinis still has active fumaroles (open vents through which hot sulfurous gases emerge.) Plus various sulphuric and hot springs across the volcano.  It's unknown when the last volcanic eruption occured but an increase in fumarolic activity was observed after (and probably triggered by) a major tectonic earthquake in 1902.  At the beginning of 2018, local scientists turned their attention back to Talinis due to some opening of vents and minor earthquake activity in the area.  As of now, it is still open to the public and is safe to experience this incredible wonder of nature.
Mount Talinis rises up 1864 metres above sea level and most mountaineers would scale and descend in just 2 days with an average of 8 hours hiking per day.  The crater lake of Nailig is set up as the main overnight camping ground with lots of space for tents.  Anyone planning to ascend would need to be in relatively good shape to make it in that time.  Due to the regular downpours and steep inclines, it's not a straightforward hike and includes a lot of scrambling up and sliding down.  Luckily the elevation provides the saving grace of cooler temperature making it more comfortable to hike in.
Ascending this beautiful peak is a perfect excuse for any hikers looking to get away from phone signal, get their muscles in gear and immerse themselves in nature for a few hours, a day, 2 days or even more if you have the resources.  There's more than one campsite and many places to explore.  Even though the trails are relatively few, it is recommended to bring a local guide with you.  The trails are their backyard and they likely have a lot of information to share.  Speak to Atmosphere Reception during your stay if you're interested.
Make sure to keep an eye out for the endemic and rare species spotted in this mountain range. Such as tarictic hornbills, Philippine spotted deers, Visayan warty pigs, Philippine tube-nosed fruit bats, and Negros bleeding-hearts. You can find more information on Talinis here in Wikipedia.