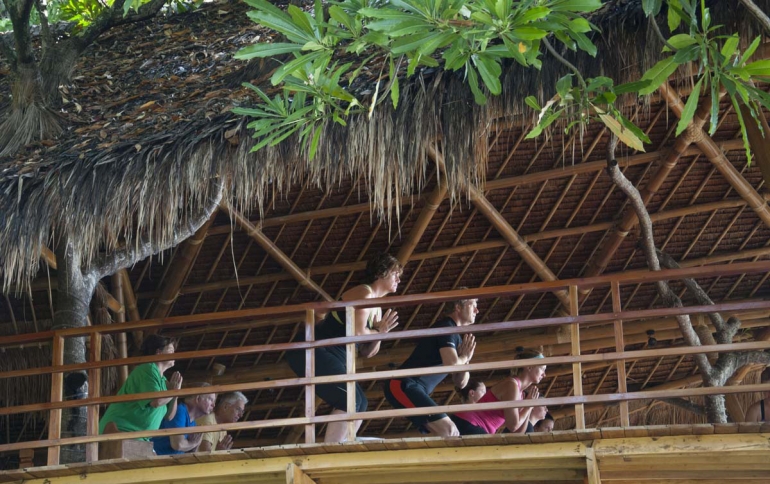 Atmosphere Dive Centre Manager, keen cyclist and avid runner Adam Detre, finds himself in a new and surprising situation up in a tree house. Lured there by yoga teacher Rae, Adam realizes he was wrong…
If you had asked me this time last year what I would be doing this year, I doubt it would have included yoga. I was part of the masses who had believed the common misconceptions that yoga was a passive, inactive hippy-ish form of non-exercise. Don't get me wrong, I am no gym addict, I cannot stand the places (so no doubt this time next year I will be waxing lyrical about them), but I do like to get sweaty the old fashioned ways. I could not have been more wrong.
My yoga sessions at Atmosphere Resort are led by the Sanctuary Spa Manager and Yogi extraordinaire Rae Collins, and I definitely get sweaty. I am also convinced that it is the best whole-body work out I have had in a long time. I was definitely walking Bambi-legged by the end. Not forgetting that the Yoga platform is built into a tree overlooking the Dauin beach, ocean and Apo Island. It is simply stunning.
I shall not go into infinite detail about what happens because yoga with Rae is something that is best to be experienced. She explains that yoga in all its many forms is a marriage between the mind, body and breath and regardless of experience or ability; the rewards from each session are instant and long lasting. I have so far tried 3 forms of yoga: Hatha (strength and balance), Yin (stretching and muscle flexibility) and Yoga Flow (power, balance and flexibility). Each has their own unique characteristic so depending on what you want to improve you can easily pick and choose from a few options
I am continually surprised at how much you can improve flexibility, balance, core strength and concentration over just a few sessions. Words would not do it justice. All I can say is that you should give it a go and I'll see you in the tree house at Atmosphere.