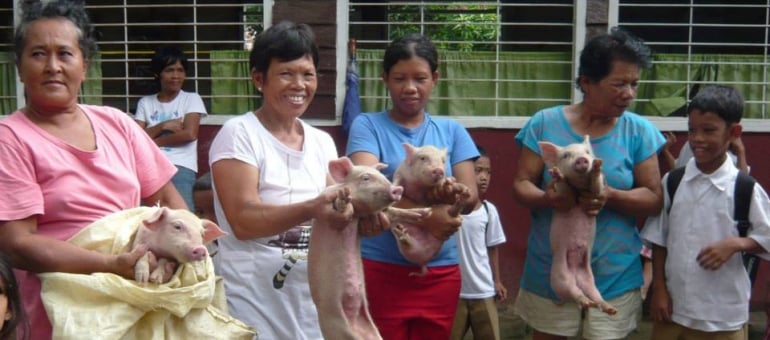 On a recent visit to the Atmosphere Soup Kitchen (ASK) with resort guests Emma and Lexie from California, we once again had the opportunity to admire the ingenuity of the people living around the dump site in Candau-ay.
The Atmosphere Soup Kitchen is a part of our Gives Forward program. It opened in June 2011 and we feed 85 kids five days a week.
Why? The main objective is to keep these kids going to school. They live in an impoverished area near the Dumaguete dump site where kids would otherwise spend their time looking for things to sell on the dump.
We collect daily attendance, measure height and weight, sponsor the lunch and school events such as graduation outing, Christmas party, birthday presents etc. The mothers do all the shopping, cooking, cleaning and serving as volunteers and it is thanks to their great efforts that the program works.
Seeing how ingenious the families are despite their lack of resources, we started up a few sustainable livelihood projects in 2012, one of which is the livestock loan, or as we like to call it, "The Piggy Bank Project".
The Piggy Bank Project implies that we (or in this case, Emma and Lexie!) buy young pigs for families to raise for four months. When they are big enough to be sold on, the families sell them and return the initial investment but keep the potential profit. If there is no profit – pigs do after all require a lot of food! – the pig still served as a piggy bank by giving the owners a lump sum in savings. This amazingly successful project was created by the families and we had the opportunity to walk around and admire and photograph the piglets.
In the past, quite a few Atmosphere guests have sponsored piglets, an Australian group sponsored toothpaste two years ago that just ran out (!) but also other matters such as vitamins, medical supplies or the graduation party for the honor students. We now might have sponsorship for school uniforms for the next three years thanks to Lexie's school St Catherine of Siena Parish School in Laguna Beach in California. Let us know if you would like to sponsor, visit the Atmosphere Soup Kitchen or know more!