Dining at Atmosphere Resort in the Philippines
At Atmosphere Resorts & Spa in Dumaguete, we are proud that our name is fast becoming synonymous with a quality dining experience within South East Asia. From the exquisite fine dining dishes of our beach-side restaurant, to the sumptuous cakes in our poolside bakery and the guilt-free organic options on our Healthy Living menu, our Atmosphere luxury menus and venues have something to please every palate.
We welcome outside guests to dine at what we believe is the best restaurant in Dumaguete when the resort is quiet, but it requires an advance reservation as we have to prioritize our overnight guests. Call 035 400 6940 or 0917 700 2048 to find out the availability.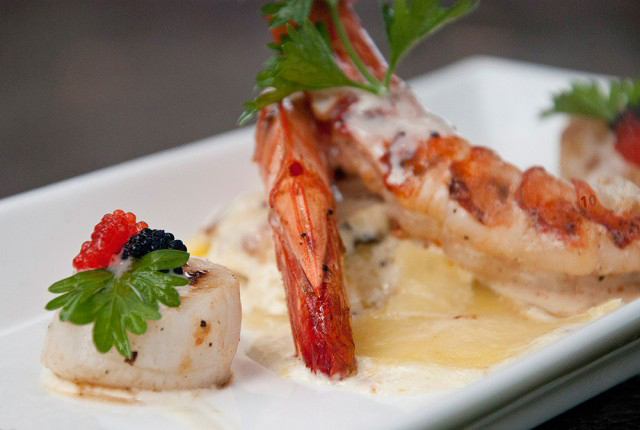 A luxurious buffet and cooked-to-order breakfast is complimentary for all our guests, with complimentary local fresh juice, locally brewed coffee and tea. Atmosphere offers pre-booked full board and half board meal packages. There are several a la carte menus, as well as daily changing blackboard menus.
Menus at Atmosphere
All day Menu – This menu  is available all day in all Atmosphere venues. An extensive mix of Italian pastas, local Asian dishes, tasty salads, filling sandwiches, pizzas and desserts.
Signature Dishes – The dishes on our fine dining menu are served after 6pm in our beach-side restaurant.
Healthy Living – The Healthy Living menu has a wide array of delicious low carbohydrates, vegan, high protein and low fat options and is available in the restaurant, by the bar, poolside and in the coffee shop all day. It also has gluten free and raw options.
Breakfast – Breakfast is available at 6am and is served with fresh fruits, salads, assorted baked products, cereal, oatmeal, yoghurt, assorted cheeses, brewed coffee, tea and fresh juices from our breakfast buffet set up.
Daily Specials' Menu – our black-board menus change daily with specials for breakfast, lunch and dinner. Take the opportunity to taste something very special, with the fresh produce of the day.
Kids' Menu – Child-friendly food options come on a drawing-friendly menu that also includes crayons.
Bar Snacks – A smaller snack menu with finger food is always available at the poolside bar for ad-hoc dining.
Sweet Treats – Elegant cake creations, decadent chocolate desserts and countless bite-sized sweet treats await you in all venues all day.
Atmosphere Food Venues
Blue Restaurant – Our beach-side fine dining restaurant caters for your dining all day. The glass-walled kitchen allows for full views of our chefs at work. We ask that you are fully dressed at Blue – but formal attire is not expected. We welcome outside guests to dine at what we believe is the best restaurant in Dumaguete when the resort is quiet, but it requires an advance reservation as we have to prioritize our overnight guests. Call 035 400 6940 or 0917 700 2048 to find out the availability.
Poolside Bar – Around our well-stocked poolside bar, we offer candle-lit dining, as well as the option to eat whilst lounging on our comfortable sofas under an umbrella around the pool.
The Coffee Shop – By the smaller pools, our bakery and coffee shop serve elegant cakes, crispy cookies and decadent desserts to go with our delicious caffe lattes, cocktails and other mouthwatering drinks.
The Treehouse – In our elevated tree house by the sea, we offer special dinners for up to 10 guests. The perfect romantic get-away, you can dine privately with your own waiter whilst listening to the breeze rustling the leaves of the trees. For a private dinner with your own waiting staff, we ask that you order a 3-course dinner and a bottle of wine.
Beach – With your toes in the sand and the view of Apo Island, nothing is more tropical than dinner on the beach. We offer beach barbecues regularly for all our guests regularly and private candle-lit dinners are always an option.
Download our Menus:
all
daysig'
disheshealthy
livingbreak
fastkids
menubar
snackssweet
treats

Healthy Living is a cornerstone at Atmosphere Resorts & Spa in Dumaguete. Our Healthy Living menu launched this year, following the start of our yoga retreat programs and Atmosphere's stronger focus on wellness. The menu takes a simple approach; clean healthy living. We chose to focus on the use of lean meats, healthy proteins, whole grains, good fats, fresh & locally grown fruits, vegetables and herbs, low salt and limited sugar. You can expect to see raw foods, gluten free and vegan meals along with plenty of low fat and high protein options. All of it delicious – there is even a sweets section!
View the Healthy Living menu:
Atmosphere's fine dining restaurant Blue is located by the beach front and overlooks the famous Apo and Siquijor islands. The emphasis in Blue is on a personal dining experience, from a sumptuous steak, a soft soufflé to dazzle your taste buds or the freshest of daily seafood delicacies; our Head Chef and his team will be delighted to tailor the menus to suit your specific preferences. Our chefs work with Filipino fishermen and farmers to source local ingredients for our exquisite dishes and in line with our eco policy, we ensure that nothing goes to waste.

Beach barbecues are held regularly with seafood, poultry and meats barbecued right next to the guest's table, a great opportunity to stick the toes in the sand and enjoy the candle lit ambiance. Filipino local delicacies will be on the menu, with a whole barbecued pig as the main attraction. There are plenty of alternatives for vegetarians or pescatarians and the alternative option of a Seafood buffet.

Children are well taken care of at Atmosphere and even have their own menus, complete with crayons and games. A selection of child-friendly dishes can be selected from the Children's menu, and many of our other dishes can be served in smaller portions. During happy hour, we always have non-alcoholic alternatives. The restaurant has high chairs for children and if the parents would like to enjoy a quiet meal from time to time, we have excellent babysitters at Atmosphere.

Placed at the head of the main pool deck, the bar is the central focus and meeting place for our guests. Sample a large selection of international drinks, cocktails, milkshakes and snacks whilst you unwind after a long day of diving, an afternoon in the spa or a day spent exploring Negros Island. We also offer delicious cocktails, fresh Italian coffee as well as a large selection of freshly made health juices. Our caffe lattes are divine! Feel free to join us for Happy Hour between 5 and 6, take your meal with a bottle of wine or one of our locally brewed beers. On Thursday evenings, the Atmosphere team host a cocktail party at the bar from 6-7, where they enjoy a few drinks with guests.
View our Drinks Menus:
alcoholic
drinksnon-
alcoholic

To guarantee top quality, all our wines are handpicked by our Sommelier every year from boutique estates. They are stored in a damp, climatically controlled wine cellar to ensure optimum taste and aging. Our concept is to give the guests a unique wine experience, where you can try various grapes to find a wine that you enjoy and to match your mood or culinary choices. Whether you are drinking our house wine or our finest Bordeaux, our wine cellar behind the Boutique is open for guests to visit.
Whether it is poolside under the stars, on the beach, in our romantic tree house overlooking the sea or on the terrace in the privacy of your own room, your al fresco dining experience will be a major highlight of your stay at Atmosphere. We pride ourselves on a personalized culinary experience, so if you have a request or a special occasion, be sure to inform our Head Chef during your stay.
For the more ambitious, the highlight is our "Day with the chef" program where our chefs will accompany you to the market and then teach you how to cook the local Filipino delicacies, complete with recipes to take home.